:::
Anchor
A stroll in Guanziling-the hot spring town

Information
Day 1 Days
Season All Seasons
Category Tainan Walking Tour、Hot Spring
Introduction
Guanziling Hot Spring, famous for its hot spring, is a popular attraction in Tainan Baihe District. It is one of Taiwan's four main hot spring areas, together with Yangmingshan, Beitou and Sichongxi Hot Spring fromthe period of Japanese rule. As Guanziling Hot Spring is a mud hot spring and is claimed to be able to brighten and soften the skin, it is reputed as the "Best Holy Spring in the World". Besides the hot spring, one can also take a stroll at Guanziling's attractions, such as Guanziling Old Street and Xianyun Bridge, challenge Hao Han Po Trail (The Hero's Stairs), and savor the barrel-roasted chicken and sweet wild vegetables. Visitors can wash away their tiredness by enjoying the hot spring and delicacies. Visitors can also take part in the annual Guanziling Hot Spring Food Festival and join the locals in the Lord of Fire's Night Parade, immersing themselves in the lively atmosphere resembling that of a Japanese festival.
Tour Routes:Lingding Park and Dacheng Hall→Wu Jin-Huai Memorial Hall→Scenery of Erjiewan→Scenery of the hot spring valley→New Hao Han Po Trail→Baoquan Outcrop→Xianyun Bridge (Idle Cloud Bridge)→Guanziling Old Street→Heavenly Stairs→Guanziling Huo Wang Ye Temple→Hao Han Po Trail

Lingding Park and Dacheng Hall
Lingding Park used to be a mini golf course during the period of Japanese rule. The golf matches were played in a fun way by hitting the golf ball across small slopes, pond island and small narrow bridge. Today, one can still find traces of the golf course in the park. Located inside the Park, Lingding Information Station was formerly Guanziling Shrine during the period of Japanese rule and was later converted to Dacheng Hall (Confucius Hall). Today, Lingding Information Station provides Kimono Robe rental service for visitors to put on and take pictures in Lingding Park's Dacheng Hall.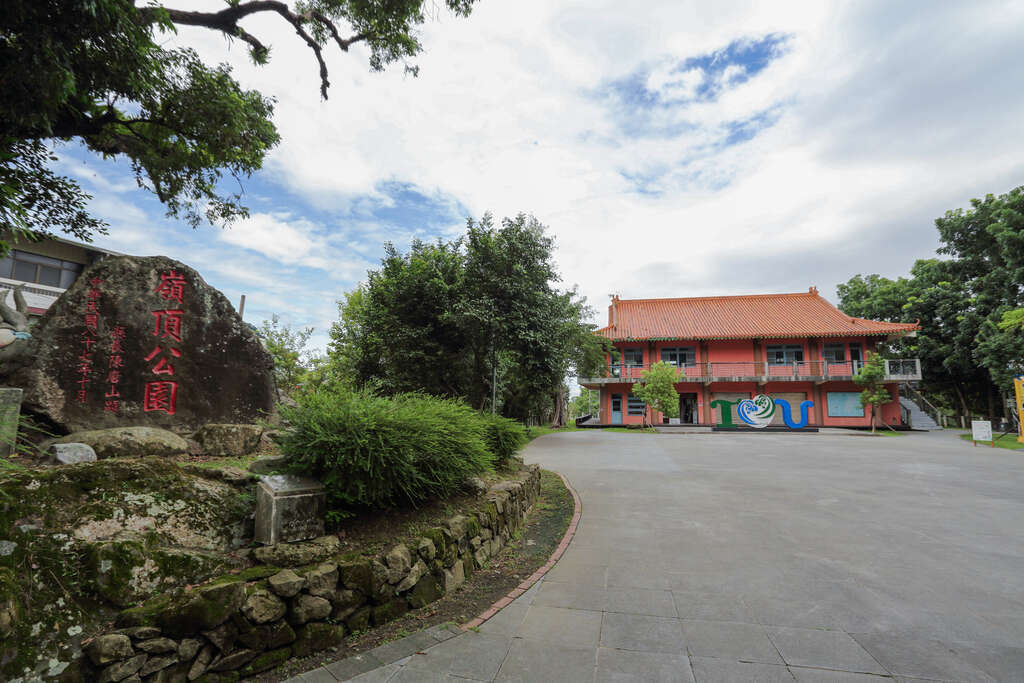 Wu Jin-Huai Memorial Hall
Mr. Wu Jin-Huai was a great musician in Taiwan's Minnan music industry. He wrote the song, "Romance in Guanziling" in Guanziling Hot Spring Club, which became a classic Minnan song, and Guanziling Scenic Area was made famous by it. In Wu Jin-Huai Memorial Hall inside Lingding Park, visitors can see "Romance in Guanziling"-related music scores and installation art, and a bronze statue of Mr. Wu Jin-Huai with his guitar, commemorating his contributions to Taiwan's local culture.
New and old Hao Han Po Trail Trail
Legend has it that Old Hao Han Po Trail was built during the period of Japanese rule for treatment and rehabilitation of the injured soldiers. It used to have 293 steps, and hence was also known as "Three Hundred Steps" and "Men's Hill" by the Japanese. It was later converted to 243 steps due to widening of the road. Lingding Park is directly accessible from the peak of Old Hao Han Po Trail. However, due to the numerous steps and steepness, visitors are advised to assess their physical ability before taking the challenge.
The City Government replanned the area into New Hao Han Po Trail, with the hot spring source as the starting point, making it a route that visitors have to take when visiting Guanziling. Compared to Old Hao Han Po Trail which has steeper steps, New Hao Han Po Trail is a safer and more comfortable trail, allowing visitors to enjoy the beauty of Guanziling.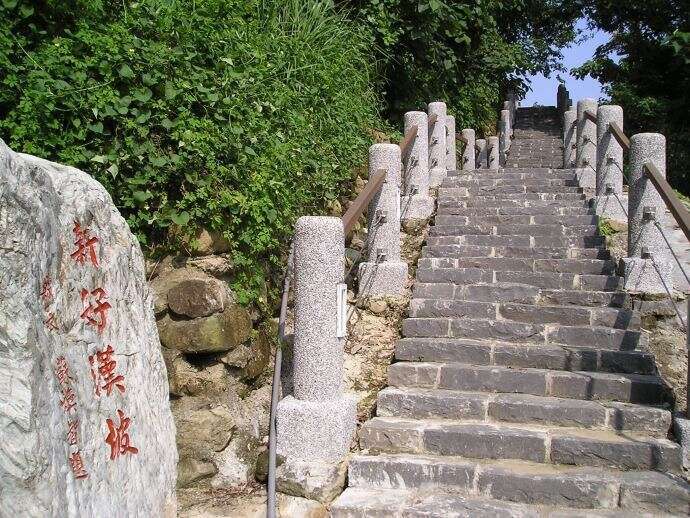 Baoquan Outcrop
Baoquan Outcrop, one of the sources of Guanziling Mud Hot Spring, was discovered by the Japanese army in 1898. The mud hot spring was evaluated by the Japanese technicians as having healing effects. In 1920, it was named the "Best Hot Spring in Taiwan", together with the Lord of Fire's Holy Spring Outcrop. Today, the mud hot spring continues to flow from Baoquan Crop. On Baoquan Bridge by the outcrop and at the Hot Spring Park behind it, one is able to smell the hot spring's unique Sulphur smell. Visitors may take a stroll along the boardwalk to New Hao Han Po Trail, Xianyun Bridge, etc., and plan for an exclusive Guanziling trip.
*Gentle reminder: Visitors are forbidden to cross the fence beside the outcrop.
Xianyun Bridge (Idle Cloud Bridge)
Xianyun Bridge is named after a poem. It is a wooden bridge on Gunshui River, and an important path leading to the entrance of the hot spring area since a hundred years ago. It used to be the path taken by many poets to the hot spring, which gave rise to the numerous famous quotes composed here. Today, it is also the bridge that visitors will cross when visiting Hot Spring Old Street. Kimono Robe rental service is available at the visitor center for visitors to wear and take pictures with Xianyun Bridge and the surrounding scenery.
Guanziling Old Street
After crossing Xianyun Bridge, one will reach what was the only street in Guanziling a hundred years ago. In 1920, Guanziling already had electric lighting, and the streets were busy and lively, comparable to Jiufen at the time. Today's Guanziling Old Street still retains its original appearance, and the lantern decoration creates a Japanese ambience. Visitors may also take pictures in the Old Street in Kimonos, and savor the famous barrel-roasted chicken and wild vegetable cuisines.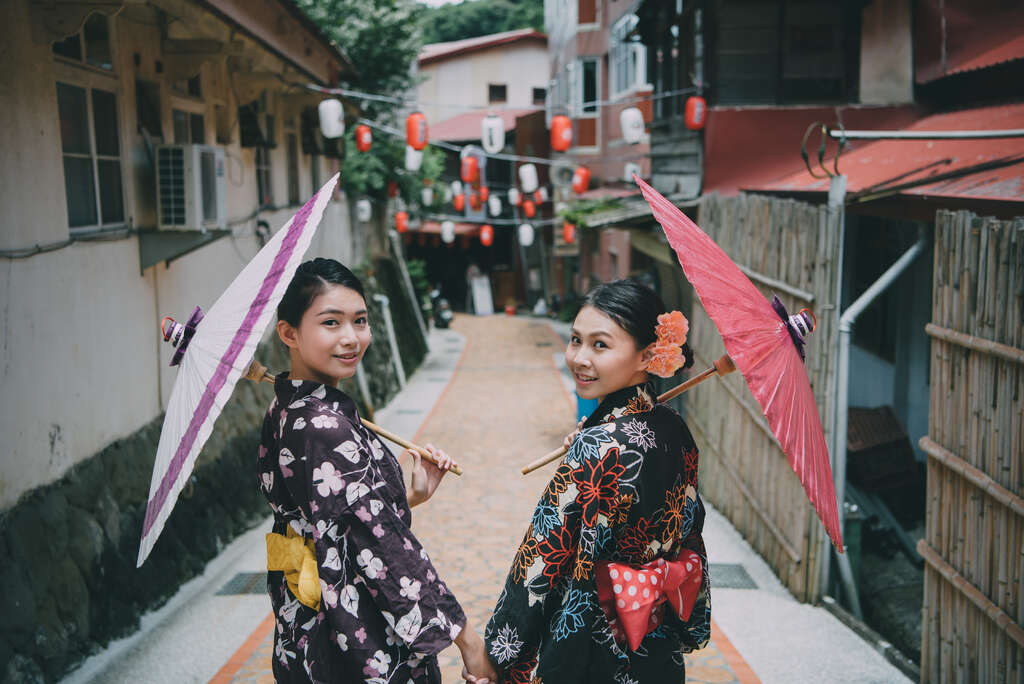 Heavenly Stairs
Due to the numerous steps of Hao Han Po Trail and its steep terrain, there is a certain level of difficulty and safety concern. Tainan City Government hence built "Guanziling Heavenly Stairs and Skywalk" to link to Hao Han Po Trail, making the circular trail more complete. At the top of the 5-6 story high Heavenly Stairs, visitors can enjoy a vast view of the green mountains and enjoy a different view of Guanziling.
Lord of Fire's Holy Spring (Outcrop)
The Lord of Fire's Holy Spring Outcrop is the other hot spring outcrop in Guanziling, known as the "Best Hot Spring in Taiwan" together with Baqoyuan Outcrop. After the continuous changes of the hot spring outcrop in the past hundred years, Holy Spring's outcrop dried up in 1968. Though the flow reappeared in 2013, it remains very unstable till today. Tainan City Government restored the Holy Spring's source based on its old photographs, and visitors can now visit the important source of Guanziling Hot Spring at the bottom of the Guanziling Huo Wangye Temple.
Guanziling Huo Wangye Temple
When the Japanese developed the hot spring area in Guanziling in 1902, they erected the Immovable God Stele at the hot spring outcrop to pray for peace. However, they took the stele with them when they left Taiwan. Later, the local residents raised funds to build a temple and replicated the Immovable God Statue, which is today's Lord of Fire. Every year, the hot spring operators make offerings to wish for the continuous flow of the hot spring. Hence, the Lord of Fire is claimed to be the guardian god of Guanziling Hot Spring.
👉
Download Brochures