:::
Anchor
International Visitors Welcome: Tainan To Launch Express Buses to Kaohsiung International Airport on January 15, 2020
Posted Date:2020-02-06
1862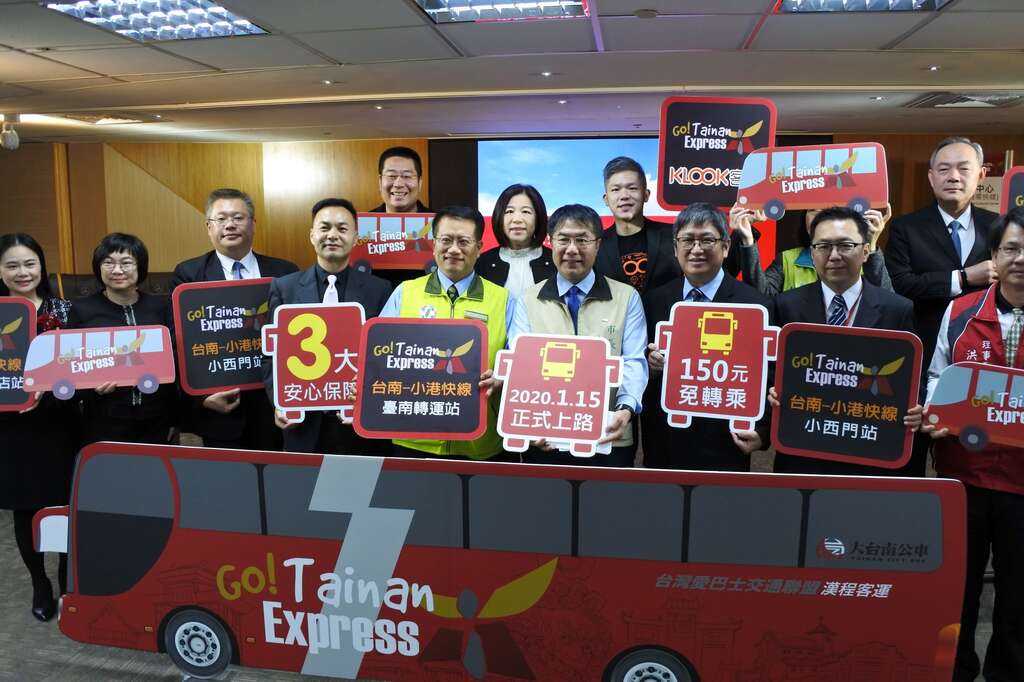 Introduce
To attract international visitors to Tainan, Mayor Huang Wei-che made an express bus service connecting Kaohsiung International Airport and Tainan one of his priorities after his election. More convenient transportation would hopefully encourage more international visitors entering Taiwan via Kaohsiung International Airport to visit Tainan. Operating rights for the route was secured by Han-Cheng Bus Traffic Co., Ltd. in September this year. To ensure that the service will be ready by early next year, preparations were completed two months early under the supervision of the city hall. Mayor Huang personally announced today (12/26) that the Tainan Express connecting Tainan and Kaohsiung International Airport will officially commence services on January 15, 2020. The world-leading travel experience booking platform KLOOK is now accepting reservations. The booking service is available in Chinese, English, Japanese and Korean for the convenience of foreign visitors.

A "Tainan Express" launch conference was held by the Tainan City Tourism and Travel Bureau today (2019/12/26). Guests included Tainan Mayor Huang Wei-che, city councilors Tsai Wan-chuan and Li Chi-wei, assistant Tsai Jing-yi from the office of councilor Lu Wei-yin, Director Chen Hsin-an from Tainan City's Tourism and Travel Bureau, Director-General Wang Ming-te from Tainan City's Transportation Bureau, General Manager South District Han Hong-kai from Han-Cheng Bus Traffic Co., Marketing Director Lin Yao-ming from KLOOK, Senior Business Development Manager Tsai Yue-ting from KLOOK, President Wu Chun-tai of Tainan Hotel Association, President Chou Jung-tang of Tainan Homestay Culture Association, President Hong Chia-pao of Tainan Culture and Tourism Industries Association, General Manager Li Ching-wen of Silks Place Tainan, General Manager Yen Hsin-I of Tayih Landis Hotel Tainan, General Manager Chou Li-hua of Shangri-La Hotel Tainan, Deputy General Manager Lin Yung-tsun of Evergreen Plaza Hotel (Tainan).

"Tainan Express was intended from the planning phase to be more than just public transport," said Mayor Huang. "It will be a link in travel services so much of its service design was based on tourist requirements." City hall and the operator focused on delivering three "great experiences" in the transportation service itself. The first of these was "comfort", with comfortable cabins and extra-large luggage spaces. Tourists can rest in comfort aboard the bus instead of having to rush between transfers with luggage in tow. The next experience was "safety." The express service between the airport and downtown backed by three "peace of mind" services means that tourists are insulated against unexpected disruptions. The third experience was "convenience." A range of support services before, during and after their trip ensure everything goes smoothly. Tainan is now set to welcome visitors from more than 36 cities worldwide once the Tainan Express enters service. The influx of international visitors should provide a further boost to Tainan's tourism industry.

According to the Tourism and Travel Bureau, public transport between Kaohsiung International Airport and downtown Tainan requires a transfer from the metro to the railway, then another transfer to reach a sight or hotel. Fore foreign visitors, getting to Tainan means contending with multiple transfers in an unfamiliar environment. The new Tainan Express will go straight to Tainan City and the five stops are Xiaoximen, Tainan Bus Station, Shangri-La Hotel (Tainan) (rear of Tainan Railway Station), Tainan Municipal Arts Center, and Kaohsiung International Airport. There will be 8 return services a day for a total of 16 services. The timetable is designed to mesh with departures and arrivals from Kaohsiung International Airport so the first service will depart at 3:30 in the morning from Tainan, and the final service will depart at 23:30 from Kaohsiung International Airport. Each trip is approximately 70 minutes in duration and tickets are $150 per person per trip, making it more convenient and economical than existing public transport. The express will also compensate for the lack of public transport for early or late flights. A partnership has been established with the world-leading travel experience booking platform KLOOK to make bookings easier for international travelers. Bookings can not only be made online but also through the KLOOK mobile app. Chinese, English, Japanese and Korean language services are provided by the system. Supported payment types include credit card, Apple pay, and PayPal. Three "peace of mind" services are offered to prevent common bus mishaps such as missing a flight, grabbing the wrong luggage, or lost items. Compensation for delays, luggage collection and labeling, and free posting of lost items help visitors relax and enjoy their trip even more. Other thoughtful touches are provided for the convenience of international visitors including QR Code check-in, children's seat, travel kit, complimentary beverage and umbrella. The express service offers enhanced service differentiation and quality over other forms of public transport.

The Tourism and Travel Bureau notes that the number of visitors passing through Kaohsiung International Airport has continued to grow every year and should surpass the 6 million mark this year. Even though there are many ways to get from Kaohsiung International Airport to Tainan, the Bureau set its sights on creating a more comfortable, safe and convenient passenger experience tailored to the needs and service expectations of international visitors. Further improvements to service content and operational performance are planned in the future. Greater integration with the city's hotel, travel, souvenir and travel experience booking industries will also be promoted to attract more international visitors to Tainan, raise the international profile of the city and provide a boost to its tourism industry.
Route Information

Time

Service will officially commence on January 15, 2020

Fare:

One-way is $150 per person

Stops

Xiaoximen, Tainan Bus Station, Shangri-La Hotel (Tainan) (rear of Tainan Railway Station), Tainan Municipal Arts Center, and Kaohsiung International Airport

Duration

70 minutes (average)

Timetable

Tainan → Kaohsiung International Airport

03:30 AM 08:30 AM 12:30 PM 17:30 PM

5:00 AM 10:30 AM 3:30 PM 9:30 PM

Kaohsiung International Airport → Tainan

5:00 AM 11:30 AM 3:30 PM 7:30 PM

7:00 AM 1:30 PM 5:30 PM 11:30 PM

Bookings

KLOOK: https://www.klook.com/en-US/activity/32701-shared-city-transfers-kaohsiung-international-airport-tainan/