:::
Anchor
All hotels are booked out each weekend so come visit Tainan during the week! 5 days to catch them all with "Pokémon GO Safari Zone in Tainan"
Posted Date:2018-10-25
2320

Introduce
The "Pokémon GO Safari Zone in Tainan" that Pokemon trainers have all been eagerly looking forward to is set to kick off next Thursday (11/1). The rare and shiny pokemons much sought after by trainers will appear throughout Greater Tainan between 10:30 and 16:30 every day from 11/1 through to 11/5. Apart from the "T.A.I.N.A.N. Z.O.N.E." totem representing Tainan and the "Relicanth" that does not usually appear in Taiwan, unusual eggs will also make an appearance in the PokeStops outside of key locations in Greater Tainan. Surprising pokemons will also gather at 30 scenic locations throughout Tainan City. Local and foreign pokemon catchers are therefore expected to flood into every part of Tainan. The Tainan City Government Tourism Bureau held a press conference at the Chimei Museum today (10/25) during which Acting Mayor Li Meng-yen (李孟諺), Tourism Bureau Director Wang Shih-ssu (王時思), Asia-Pacific Community Manager Hilda Leung from Niantic, the game publisher, Deputy Director Liao Wan-ju (廖婉如) of Chimei Museum, Legislator Huang Wei-che (黃偉哲) and Councilor Li Wen-cheng (李文正) all announced together the start of the event.
Tourism Bureau Director Wang thanked game publisher Niantic the game publisher and the Pokémon Company for their latest collaboration with Tainan City. In addition to the rare pokemons that will appear throughout Tainan City, the square in front of the Chimei Museum will host three meet-and-greet sessions every day featuring man-sized Pikachu and Eevee dolls. There will also be a daily parade for Pikachu and Eevee to conquer trainers with their cuteness up close. 20,000 limited-edition Pikachu paper-hats will be given away every day during the event at the Tainan Metropolitan Park and Chimei Museum only while stocks last. Rel-world PokeStops from the game as well as life-sized cardboard cut-outs of all three team leaders will make an appearance so that trainers can take the coolest selfies. Simply show the "Pokemon Go" app installed on your mobile phone at the Chimei Museum during the event to be eligible $150 discounted tickets to the museum. With plenty to see, play and eat, this carnival will be perfect for families and friends looking for a very special tour of Tainan.
Hilda Leung, Niantic's Asia-Pacific Community Manager, expressed her delight at being able to host such an exciting event in a location as beautiful as the Chimei Museum and Tainan Metropolitan Park. She also thanked Tainan City Government for organizing 100 partner merchants and encouraged players from all around the world to come and catch them all in Tainan.
Acting Mayor Li Meng-yen said that the Tourism Bureau has received many inquiries from foreign players and independent tour groups organized by tour agents since the event was announced online. Reports from hotel operators in Tainan indicate that all weekend accommodation are now booked out as well. The full backing of all major telcos should help ensure the quality of the network signal during the event so that local and foreign players can all have fun catching pokemons. To ensure a good experience during the event, the Tourism Bureau is not encouraging people to visit during the week instead but has also coordinated with Taiwan Railway Administration (TRA) to run an extra return service between Chiayi and Kaohsiung. Gamers should consider taking the train to TRA's Bao-an Station as the main event venue is just a 10-minute stroll away. A short walk will not only avoid the hassles with finding parking but also be good exercise and help the eggs hatch. The organizers have set up two shuttle bus services from the Metropolitan Park to the Tainan HSR Station (Blue Line) and Taiwan Sugar Mall (Red Line). Bus services will depart from the two starting stops between 09:30 ~ 15:30 every day at 15 ~ 20 minute intervals depending on demand. Please note that the final bus from the Metropolitan Park to the pick-up points will depart at 17:30 each day. Once again, please pay attention to pedestrian and road safety. Do not play the game while driving a car or riding a motorcycle.
Due to the limited number of coach parking spaces available at Chimei Museum, Tourism Bureau Director Wang Shih-ssu reminded trainers traveling to the venue by chartered coach that the Tourism Bureau has designated a temporary pickup/drop-off zone (No Parking) along No.1 Taiwan Highway. If parking is full at Chimei Museum, coach buses should drop their passengers off at the designated location (see attached map) then park near Sugar Mall or the HSR Station. Gamers are asked to pay attention to their own safety and that of others while playing and on the move. Members of the public should consider traveling to the venue by public transport on weekdays to avoid the hassles of traffic congestion and lack of parking. Rare pokemons are likely to appear throughout all of Tainan City as well. If there are too many people and vehicles at the main venue then feel free to visit other sights in Tainan City for easy pickings.
★Five Ways of Reaching the Main Venue
1. By Taiwan Railway: At TRA Tainan Station or TRA Shalun Station (Tainan HSR Station), take the local express to Bao-an Station then walk approximately 10 minutes to reach the venue.
2. By High Speed Rail: Take the HSR to Tainan Station then transfer directly from the 2F ticket barrier to TRA Shalun Station. Take the local express to Bao-an Station then walk approximately 10 minutes to reach the venue; alternatively, go to No.3 Exit and turn right on Wudang Rd. to take the free event shuttle to the venue.
3. Bus: HSR Shuttle, Fucheng Bus No.5, Shin Nang Bus Red 3, Red 3-1 and Red 4-1, Kaohsiung Bus No. 239 and Kaohsiung-Tainan Express.
4. Park + Shuttle: Free shuttle bus services to the main venue are available during the event from Sugar Mall near Tainan Metropolitan Park and Tainan HSR Station which has more parking spaces available.
5. Operating Hours of Free Shuttle:
(1) Blue Line: Tainan HSR Station → Chimei Museum (No.1 Taiwan Highway P1 Car Park) 09:30 ~ 15:30. Final bus from Tainan Metropolitan Park to HSR Station departs at 17:30.
(2) Red Line: Sugar Mall → Tainan Metropolitan Park (Sec. 2 Wenhua Rd.) 09:30 ~ 15:30. Final bus from Tainan Metropolitan Park to Sugar Mall departs at 17:30.
(3) Remarks: Buses depart at 15 ~ 20 minutes interval depending on demand. Please note that the final buses from Tainan Metropolitan Park to Tainan HSR Station and Sugar Mall all depart at 17:30.
★Accessible Transportation
1. Take the TRA local express to Bao-an Station. The main venue is approximately 10 minutes away.
2. Take Bus No. 5 from Tainan Railway Station (download the Greater Tainan Bus App or contact Fucheng Bus for the schedule of low-floor buses.)
3. Book a Greater Tainan Wheelchair-Accessible Taxi:
(1) Taiwan Taxi: Call 55688 on mobile phone or 405-8888 on landline.
(2) M-Taxi: Call 06-2899999.
(3) Fucheng Taxi: Call 06-2755555.
★Temporary coach pick-up/drop-off point at main venue(If No.1 Taiwan Highway P1 car park is full)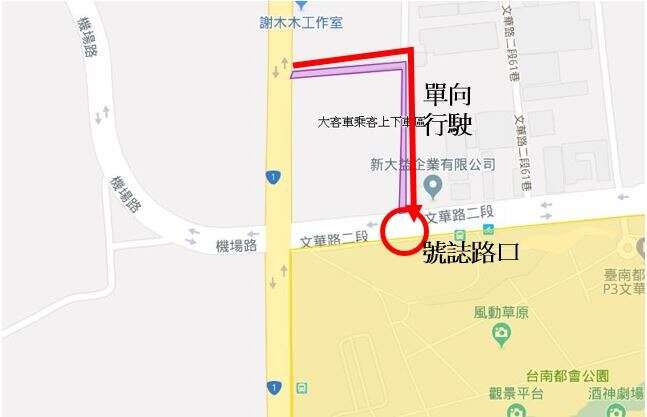 One-way
Signaled interaction
"Pokémon GO Safari Zone in Tainan" event information
Please visit: Travel Tainan https://www.twtainan.net