:::
Anchor
Taiwan Salt Museum(台灣鹽博物館)
玩樂攻略
A "Mecca for Photographers": Qigu Tourist Service Center
Savor Salted-Coffee and Specialty Ice Desserts

Experience "Salt House" Negative-Ion Spa

Simulation of Wieliczka Salt Mine in Medieval Poland

Taiwan's First Salt-Themed Museum


Introduce
Amidst the endless salt fields, two white pyramids stand side by side, looking out over the Qigu Salt Mountains; here stands the Taiwan Salt Museum. Walking into this "fortress" of the salt industry, you can reminisce the scenery of the salt fields with your vision; empathize with the hardships of the salt workers with your hearing; grasp the salt crystals with your sense of touch; imagine the humid salt fields with your sense of smell; taste the salty coarseness of salt crystals with your sense of taste; and fully appreciate the history of the local salt industry with your senses and cognition.
History of Salt: Recreating the Salt Industry
Salt workers toiling under the sun, salt well guard posts, salt-transport trains, salt village clinics, oral stories retold by the local elders and salt workers, the yellowing old photos on display…they all bring the salt field scene of the 1950s and 1960s to life. The site also recreates a simulated scene of a medieval Polish mine, with the small and confined space surrounded by humid air and a solemn ambience, as if traveling through time and space, to truly understand the hard life of salt workers.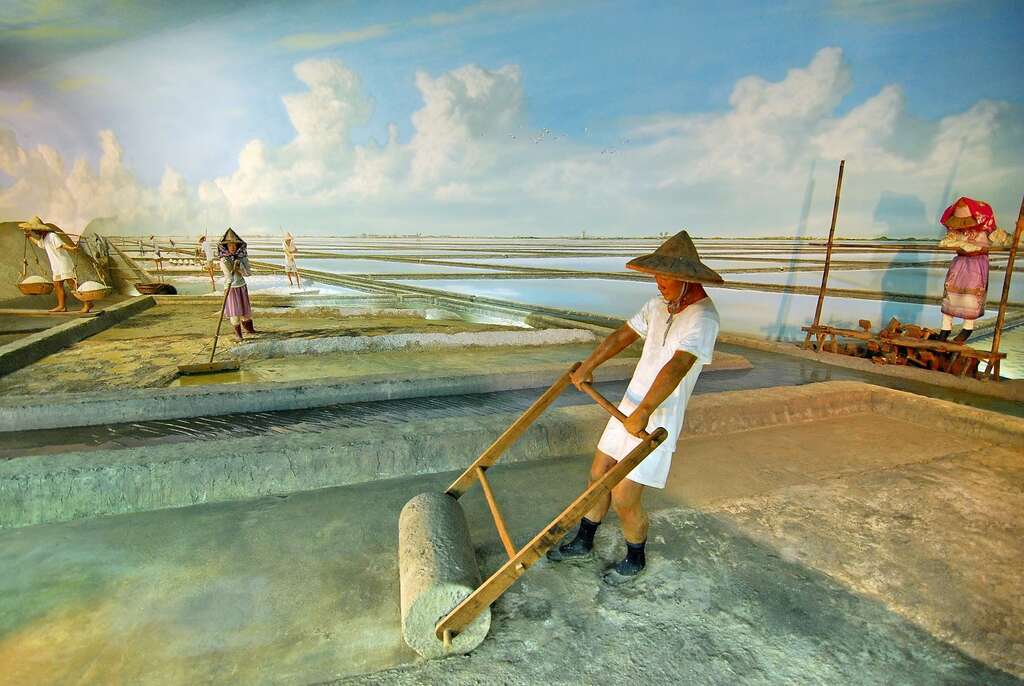 Salt Memorial: Salt Life Experience Center
Next to the museum is the Salt Life Experience Center, where you can enjoy a cup of salt coffee to calm your mind and a salt ice popsicle to cool down the summer heat. Look at the colorful salt sealed in bottles and jars, like pigments arranged in a row on the wall! Pick a jar with your own lucky color, and commemorate your unforgettable trip.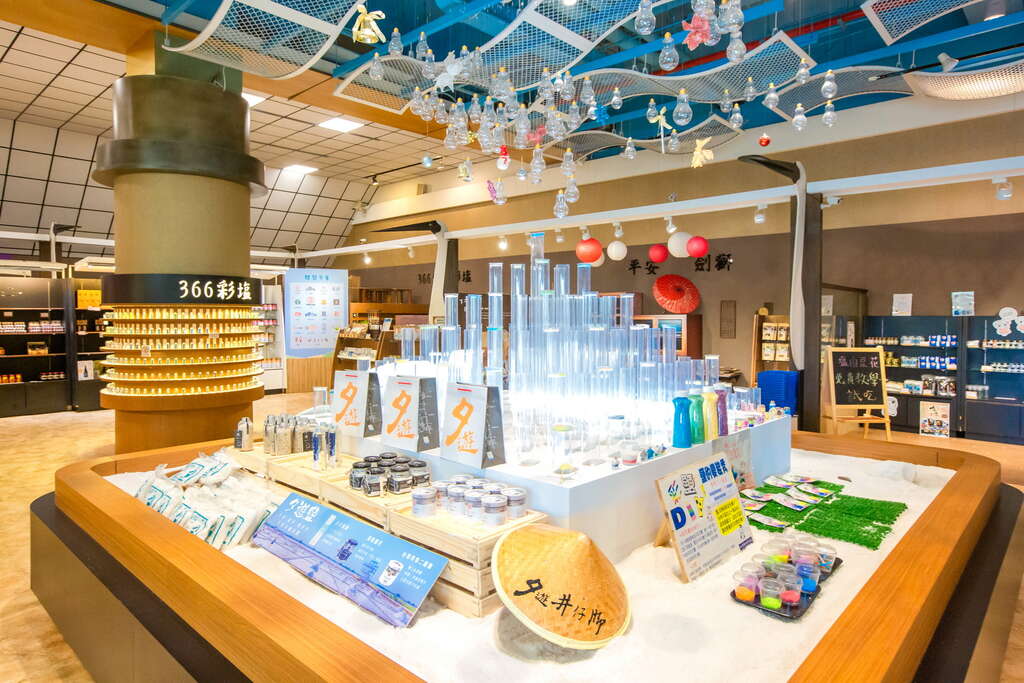 Built of Salt and Beauty: Qigu Tourist Service Center
Not far from the museum, there is another building of breathtaking beauty in this vast land: the Qigu Tourist Service Center. The gray and white concrete building extends its limbs in all directions and blends in perfectly with the salt fields despite its prominence. The stairs are stacked upward, as if holding up the blue sky. This spectacular interlacing scene has been captured in countless visitors' photo albums.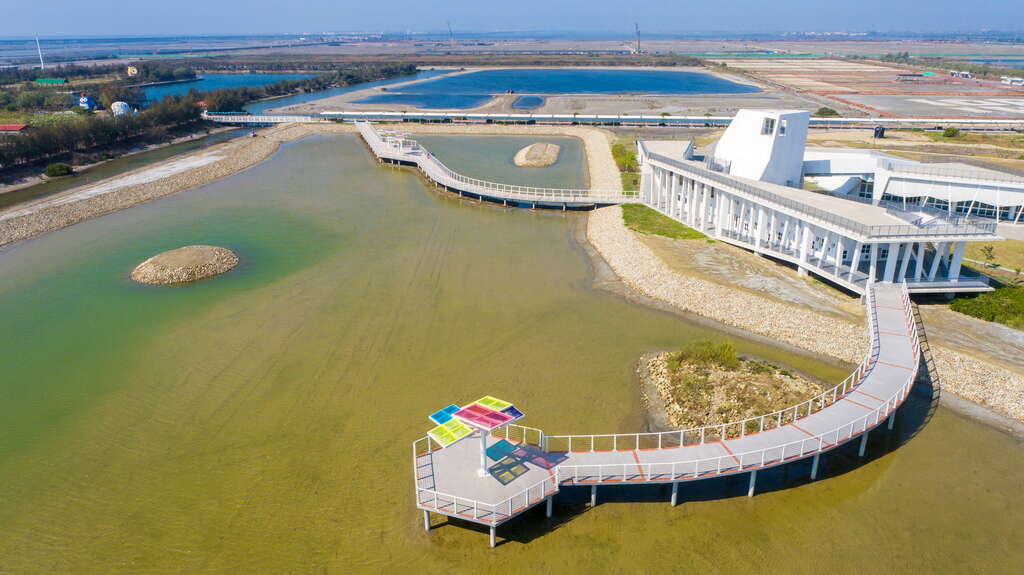 Information
TEL +886-6-7800698
FAX +886-6-7800996
Address No. 69, Yancheng Village, Qigu Dist., Tainan City Taiwán, R.O.C
Category Local Gallery、Culture、Handicapped Access
Open Hours Sunday:09:00 – 17:30
Monday:09:00 – 17:30
Tuesday:09:00 – 17:30
Wednesday:Break time
Thursday:09:00 – 17:30
Friday:09:00 – 17:30
Saturday:09:00 – 17:30

Charge ▴Full ticket NT$130: General admission
▴Concession tickets NT$110: Elementary school students and above, military and police, Tainan citizens
▴Group tickets NT$100: Seniors over 65 years old, teachers, volunteers, and groups of 20 or more
▴Half-price ticket NT$30: 4to 6-year-old kindergarten children, accompanied by a guardian (limited to one person)
Free admission: Those with a certificate of identity domiciled in the Qigu District, visitors with a physical and mental disability handbook, children under 3 years old
Links Facebook Fans
TripAdvisor Reviews
32 Reviews
Write a Review
A small museum about salts

Not very special, but could be of fun with children, they are very excited to see different kinds of salt, in various colours. You can also buy some bath salts as souveniors, may also try boiled egges and icrecream.

Ruby D

Tallahassee, Florida

Not much to see

The museum is located quite far away from Tainan. We took a bus (#8899), mainly for scenic spots, from the Tainan train station to the museum. It was a long ride, over 90 minutes one-way. Luckily, there is free Wi-Fi for us to kill time. All displays inside the museum are written in Chinese. There is no English translation side by side nor English audio tapes for explanation and information. Compared with other museums, this one isn't worth the money (although it's still not expensive by our standard) and time. No wonder we didn't see many tourists there.

FarAway55074469571

Taipei, Taipei, Taiwan

Traveler type:

Friends getaway

Over my expectation!

We went there as a backup plan on rainy day. It turned out a very good tour. We had a professional local tour guide lady introducing us the history of making salts. She can answer the questions we throwed out perfectly. They even have the salt mine landscaping from Poland. Pretty impressed by this museum.

StuTaylor25

Tivat Municipality, Montenegro

Traveler type:

Solo travel

Odd, slightly cheesy but pleasant

My host took me here on a October Sunday , Whilst being rather sceptical it is actually a very gentle way of spending a few hours. I learnt a lot about the significant of salt over the ages and the visitors centre whislt being slightly limited in depth is well done Wouldn't go again but I am glad I have been

ffchoy

Singapore, Singapore

Surprisingly Interesting

Never thought learning about salt could be fun, but this museum proved me wrong. With an introduction to the history of salt, it's uses and many others, it was informative and engaging. It even has a little salt mining cave that mimics that of real caves. One floor is dedicated to photo-taking, with beds, food, even bathrooms made entirely out of salt. Staff was friendly and knowledgeable (he worked in the salt farm when younger) and acted as our private tour guide even! Check out the salt products at the end, then head over to the large salt field behind the museum. Visitors are encouraged to try out salt farming! It was a really enjoyable visit.
This review is the subjective opinion of a TripAdvisor member and not of Tainan City Government and TripAdvisor LLC.